When it is the holiday season for kids, keeping them busy for the entire duration gets very difficult. You can only take them to shopping and movies for a day or two. Within the first few days of their holidays, they will start whining because they need something exciting to do when they are at home. 
This is when you will have to start planning a vacation for them. Whether it is a short weekend trip to a nearby location or a long vacation to some exotic location; planning a last-minute trip can be expensive and bring a lot of chaos. It is always advisable to plan and select your destination in advance by taking in views of your entire family. 
Vacations also boost the time you will spend as a family together. In normal day routine, we all get busy and hardly get any quality time to spend with our ones. When we go on a vacation with them, we are free from the regular hustles of life and build memories that we as a family cherish throughout our lives. This will also keep your children away from electronic devices. 
If you are looking for one destination to spend time with your family while having some adventure here and there, Destin Florida could be perfect for you. The white shores and cool summer sand of the beaches of this city makes it a perfect location for the summer holidays.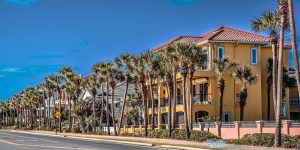 Historically, Destin has always been a village of the fishermen. Once a small silent city is now a paradise for the travellers and is one of the busiest summer vacation destinations along the Gulf coast. 
Your children will surely be mesmerized by the emerald green waters and so many adventure parks to keep them busy throughout the vacation. You can also catch some lazy hours with your family relaxing on the beach and swimming in waters that are clear as crystals. 
You can visit DestinFlorida.com as they are the most trusted partners to book a vacation rental in the city. You can also find a list of best restaurants on their site and it will also help you in planning various activities that you could take up with your children to add spice and fun to your vacation. 
You can also browse various local events that are scheduled during your stay and become of a part of the local culture and experience local cuisine and art forms. There is no better way of learning about a place than experiencing it yourself. You can also book a private fishing tour for your family and enjoy the fresh catch for your dinner. 
Things to do in Destin
The best way to enjoy the vacation is road travel on the streets of Destin as you get easy access to all the beaches of the city. Although, you will find a lot of traffic during the busy months but it is the most recommended way of exploring the city. You can also fly in and then rent a car if you are coming from a far-off place. 
Summer months of April and May are the most comfortable months to visit Destin as you would not like to splash in chilly winter waters. Although the prices would be much cheaper months, you will miss on local activities. If you are visiting during the summer months, the top 3 places that you can book at DestinFlorida.com to add fun to your family time is:
This popular attraction features water obstacle courses, emerald green waters, and floating bars. 

Just anchor your boats and have a fun filled day with your children.

The waters are also safe as the water here does not have much depth and police keeps patrolling the area. 

The best way to reach Crab Island is by renting pontoon boats or use public shuttles. 

You can also use kayaks and Jet Ski if you want a little more adventure on the way. 

There are endless activities for people of all ages on this island; while your children have fun on the inflatable slides and trampolines, you can play volleyball with your friends or may be other travellers. 

The floating food vendors are an icing on the cake. 

Our advice to you would be to not forget your sunscreen at any cost. 
Visit Harborwalk village:
It is an exquisite place with fancy restaurants and shopping boutiques. 

Water activities such as scuba diving and snorkelling give your vacation an awesome experience. 

 What makes this place a completely different experience is its pirate ship tours and myriads of games designed for all ages including shooting and mirror maze. 

You also get a chance to see the mesmerizing view of the famous Destin Zip line. 

While winding up after a day full of activities, sit down and relax at the most amazing fine dining set ups and enjoy the seafood. 

They are famous for serving their seafood as fresh as humanely possible. 
This is the place where you can enjoy the local art and culture at its best. 

If you are looking for luxurious dining experiences, this place is a must visit for you. 

You can leisurely stroll down the lanes of this village while watching various street performances. 

Many restaurants here serve food in the atmosphere of live music that will definitely level up your dining experience in this part of the city. 

No, this place is not just about the luxury it will bring to your life but also is packed full of adventure. 

Visit the adventure zone and you won't be disappointed. 

From zip lines to trial ropes, from tower climbing to golf challenges; every member of your family can actually have fun here. 

Lastly, do not miss the lifetime opportunity of riding a carousel in this beautiful place. 

This place also features the best night clubs in the city.
Make experiences here in Destin that your children will remember for years. It is a perfect place for letting your entire family have fun and bond together.