Tenerife, the largest of the seven Canary Islands, is situated between Gran Canaria and La Gomera and has an area of 2050 sq. km. It has lush greenery, diverse animals, mountains, volcanoes, deserts, and beautiful coastlines and beaches. The volcanic mountain of El Teide, which rises to a height of 3717 metres, is Spain's highest point, and its snow-covered peak can be seen from a distance of up to 60 metres. The Canary Islands' seven main islands are well spaced apart, so most of them are only a day's sail away, making them ideal for all types of yacht charter sailing trips.
You can book a Tenerife yacht rental from Club Canary. Club Canary is a tour company located in Plaza del Duque shopping centre, Santa Cruz de Tenerife. You can get any yacht package that suits your needs. Whether it is the Atlantic Star Yacht package, the Kailani Yacht, skyline yacht or motorboat rental, they have all kinds of services including budget and luxury packages.
Benefits of Renting Yacht than Boat Trip in Tenerife
When you think of your ideal vacation, you might picture yourself staying in a luxurious hotel suite or watching the ocean waves from the deck of a huge cruise ship. While a cruise ship definitely gives you a luxurious and wonderful feeling, but yacht gives a personalized feeling.
Personal Trip
On a boat trip, all you have to do is climb on board, and the boat will take you on through their regular course. If the weather isn't favourable, and the whales or dolphins aren't visible, then is boat trip can sound boring and tedious. Moreover, let's not discuss the money that you spent on this boat trip.
On the other hand, upon renting a Tenerife yacht charter, you can decide where to travel and how long to stay. When you sign up for a private boat, you get the privilege to create your itinerary. This way if you cannot whales or dolphins on the regular course, you can always change the route and go somewhere else.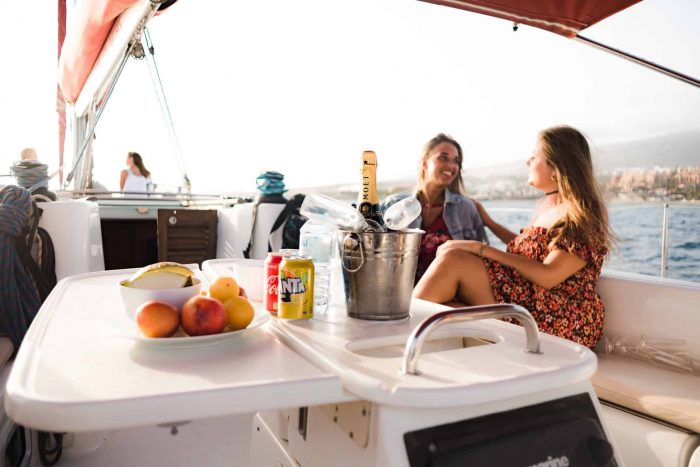 Picturesque Photo
Tenerife provides stunning views of the island, its natural beauty and sea creatures. When you plan a vacation there has to be a photo shoot to keep those memories. However, on a boat trip, when it is continuously sailing on the water, it is difficult to take still and attractive photos. Regular boats also cram a lot of people on board, a lot of your images will be affected by other passengers passing by.
However, on a yacht charter, only a small group of people sail, so everyone gets plenty of room to capture incredible photos with a favourable background. As a result, you won't miss any sightings.
Let's not forget personalized touch gives a romantic feeling when you're spending time with your spouse. You also get a lot of time to spend with the captain/sailor to know more about the island. Trust me it is exciting to know interesting facts about islands. There is often untold and unfolded history that only locals can tell you.
Yacht rental is the best way of spending some quality time in the water. It is not that boat trips are disappointing. If people are in huge groups and love crowds then they should go for the Tenerife boat rental service.