Playa del Carmen is a lively city in the Riviera Maya, in the Mexican state of Quintana Roo.
It has undergone a significant transformation process in recent decades, becoming one of the most important tourist destinations in the Caribbean. The opening of large hotel complexes along the coast and beaches has contributed to this transformation. Besides enjoying the sun and beaches, there are many other things to see and do in Playa del Carmen. It is a very touristic city, quite congested with visitors, and where practically everything is oriented, in one way or another, to tourism. Beaches, sun, water sports, nightlife, rich gastronomy, coral reefs, Mayan ruins, theme parks, etc., on a visit to Playa del Carmen, you won't miss anything. This small town has the perfect combination to enjoy an unforgettable vacation in Mexico.
Where is and how to get to Playa del Carmen
Playa del Carmen is a small Mexican city located in the Riviera Maya on Quintana Roo. It is located 70 kilometers south of Cancun and 65 kilometers north of Tulum, off Cozumel's famous island. It has 150,000 inhabitants and is, after Cancun, the central city on the Riviera Maya coast. Get to Playa del Carmen by plane is customary to land at Cancun International Airport, the main gateway to visit Playa del Carmen and the Riviera Maya. It is located 55 kilometers from the city. Once landed at the airport, if you have booked at the private agency, you take a Transportation from Cancun to Playa del Carmen to reach your accommodation quickly and without stopovers.
What to see and do in Playa del Carmen
Most of the things to see and do in Playa del Carmen are accessible by public transportation. However, others, such as the excursion to Cozumel, visit Mayan ruins or the cenotes on an organized tour. All along Quinta Avenida and in the adjacent streets, you will offer all kinds of excursions. Before choosing the expedition and the agency, ask for the price in a few places, as they are usually significantly inflated at first.
When we thought about going on vacation to the Riviera Maya for several days, we did it thinking about relaxing, escaping from stress, and resting. Most people who visit this area of the Caribbean do so, staying in large, all-inclusive resorts. That was our first idea, to do some sightseeing, but mainly to rest. When we started looking for some excursion or visit to do in the mornings, we realized many things to see in Playa del Carmen, Tulum, Cancun, and surroundings. Instead of 10 days, we would have needed a month. We selected well, chose with a bit of variety, and left some things for a future visit.
Here are the main things to do in Playa del Carmen:
Swimming at the beaches
One of the main things to do in Playa del Carmen is to enjoy the sea, the sun, and the beaches. The beaches may not be as spectacular as Tulum or Akumal, but they are the perfect place to cool off on a hot day. One of the most popular beaches in town is Playa Mamitas, where you can rent hammocks and umbrellas and enjoy numerous water sports.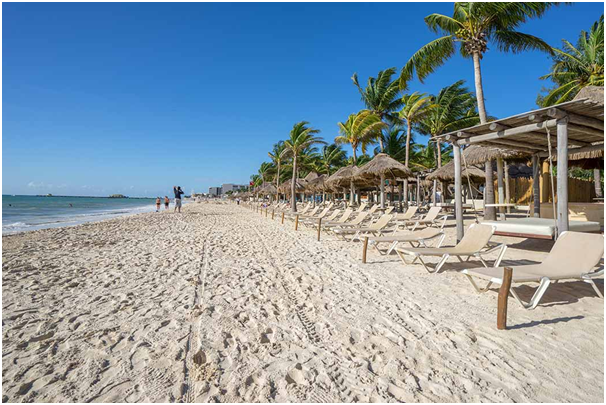 Shopping, eating, and drinking on Fifth Avenue.
Fifth Avenue is the most famous street to see in Playa del Carmen. It runs parallel to the beach and is a pedestrian avenue where you will find everything—dozens of bars, restaurants, breweries, international stores, modern shopping malls, nightclubs, etc. The street starts next to the pier where the Mayan portal is located and is several kilometers long. After a day at the beach, or sightseeing visiting Mayan ruins, the best thing to do in Playa del Carmen is to head to Quinta Avenida and enjoy the atmosphere. Of course, with a Mexican beer in hand. Quinta Avenida is the center of Playa del Carmen's nightlife and shopping.
Go on an excursion to the Mayan Ruins of Tulum.
Not all things to do in Playa del Carmen are limited to enjoying the beach, sun, and water sports. The state of Quintana Roo, where the Riviera Maya is located, is one of the places with the greatest cultural and historical heritage in all of Mexico. The most famous archaeological site is Chichen Itza, but others have nothing to envy. Coba and Tulum are two almost obligatory places to visit from Playa del Carmen. To get to them is as easy as taking a tour or Shuttle from Cancun to Tulum or renting a car to move around more freely.